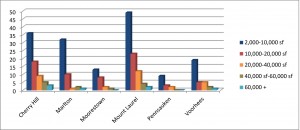 Wolf Commercial Real Estate reports the Southern New Jersey office space market experienced a positive uptick in rental rates in 2012, even though overall office real estate vacancy rates remain stuck where they have been for four years — at 20% or higher.
Southern New Jersey office space rental rates have increased on average from $7-to-$9 per square foot NNN to the $11-to-$13 per-square-foot NNN range, according to a year-to-date report from the Voorhees NJ-based company.
"Even with the high vacancy rates, great locations are performing well and causing rents to increase," the report said, adding: "This is now starting to trickle into the markets with struggling vacancies."
Nonetheless, it remains a tenants' market. Tenants in the market for 10,000-40,000 square feet who are considering a "flight-to-quality" have ample opportunity to negotiate on rent for Class A South Jersey office space, Wolf notes. The stubbornly high South Jersey office vacancy rate continues to enable all tenants to negotiate for better lease terms.
"Even with slow economic recovery underway, this pattern is expected to continue until the market sees significant positive absorption and a better jobs outlook," the WCRE analysis said.
Wolf Commercial Real Estate surveyed availabilities at class A and B buildings with up to 100,000 square feet in Cherry Hill, Marlton, Moorestown, Mount Laurel, Pennsauken and Voorhees. Overall, Mount Laurel had the most Southern New Jersey office space available of any of these communities, with almost 50 offices of 10,000 square feet or less currently on the market, along with a significant supply of larger offices.
Tenants with leases coming due in the next two years should continue to review their leases, operating expenses, and the overall market for opportunity. WCRE can create individualized and highly detailed solutions to help in several ways:
* WCRE can analyze your current lease situation and determine whether and when it would be prudent to relocate to quality or renegotiate more favorable terms on existing space.
* WCRE will create a valuation matrix that includes your financial situation, property needs, and available alternatives.
* WCRE can develop negotiating strategies based upon our extensive knowledge of the market and the financial position and reputation of individual landlords.
* For tenants with a remaining lease obligation, WCRE can negotiate a restructuring or early termination of the lease, or we can represent you in a sublease arrangement.
If you have a need for South Jersey office space, a lease expiration coming due, or want to learn more about these opportunities, please contact Jason Wolf (856-857-6301; jason.wolf@wolfcre.com), Leor Hemo (856-857-6302; leor.hemo@wolfcre.com) or Scott Seligman (856-857-6305; scott.seligman@wolfcre.com) at Wolf Commercial Real Estate, the premier Southern New Jersey Commercial Real Estate Brokerage and Advisory firm. As office space brokerage and advisory experts in Southern New Jersey, our team provides ongoing information to our clients and prospects to help them achieve bottom line savings, reduce their costs, and mitigate their levels of risk.
WCRE is a full-service commercial real estate brokerage and advisory firm specializing in office, retail, industrial and investment properties in Southern New Jersey, thePhiladelphia region or anywhere in the country. We provide a complete range of real estate services to commercial property owners, companies, and investors seeking the highest quality of service, proven expertise, and a total commitment to client-focused relationships. Through our intensive focus on our clients' business goals, our commitment to the community, and our highly personal approach to client service, WCRE is creating a new culture and a higher standard. We go well beyond helping with property transactions and serve as a strategic partner invested in your long term growth and success.
Learn more about WCRE online at www.wolfcre.com, on Twitter @WCRE1, and on Facebook at Wolf Commercial Real Estate, LLC. Visit our blog pages at www.southjerseyofficespace.com<https://southjerseyofficespace.com/>, www.southjerseymedicalspace.com<http://www.southjerseymedicalspace.com/>, www.southjerseyland.com<http://www.southjerseyland.com/> and www.southjerseyretailspace.com<http://www.southjerseyretailspace.com/>.
WCRE markets Southern New Jersey and Philadelphia commercial offices, medical properties and retail buildings for buyers, tenants, investors and sellers. Please visit our websites for listings of Southern New Jersey commercial real estate for lease or purchase or for information about retail space, medical space or office space for sale or lease from this Southern New Jersey Commercial Real Estate Broker.