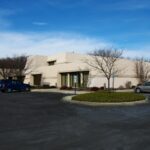 WCRE is proud to have successfully represented M&P RE, LLC in the exclusive leasing of approximately 1,088 square feet of premier office space to P.R.A.C. of Southwestern New Jersey for their new office headquarters at the Concorde Professional Building located at 390 North Broadway, Pennsville, New Jersey.
P.R.A.C. of Southwestern New Jersey was organized in 1971 by a group of Salem County Agricultural Workers for the purpose of advancing, promoting and enhancing social, economic, cultural and educational opportunities for Hispanic citizens.  Their mission is to identify and address the needs of low to moderate income community members by developing strategies and programs that facilitate social, economic growth, self-stainability along with promoting culture awareness and events.
Concorde Professional building is Pennsville's most prestigious medical and office building with a tenant list including Cooper Medicine and Labcorp.  The property is conveniently located on N. Broadway which offers exceptional accessibility to/from Interstate 295, the NJ Turnpike, Delaware Memorial Bridge and public transportation.
WCRE's Bethany Brown, Vice President represented the landlord in this lease transaction.
There are still available office spaces for lease at 390 North Broadway in Pennsville, New Jersey.